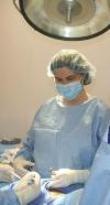 For your convenience and privacy, we are very proud to offer a fully-equipped, private, same-day surgical facility, located within our Harlingen office. Our private, in-office surgical facility allows us to maintain more competitive pricing and to offer you more convenience and privacy.

We are pleased to offer a wide range of anesthesia options for your same-day surgical procedure, including local anesthesia, monitored anesthesia care (deeper sedation), and general anesthesia.





Our surgical facility was designed using the Texas Department of Health standards for Ambulatory Surgery Facilities. Our facility is fully equipped. This design and equipment allows for the performance of your surgical procedure under the same high standards as a hospital or outpatient surgical facility.

Our surgical facility is accredited by the American Association for Accreditation of Ambulatory Surgery Facilities, Inc. This voluntary accreditation demonstrates our dedication to maintaining the highest standards of surgical care and maximal patient safety.